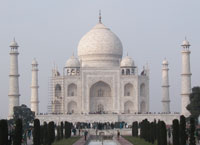 Jharkhand is a state in eastern India. It was carved out of the southern part of Bihar state on 15 November 2000. Jharhkand is bordered by the states of Bihar to the north, Uttar Pradesh, Chhattisgarh to the west, Orissa to the south, and West Bengal to the east. Jharkhand is also popularly known as Vananchal. Jharkhand is known for its mineral wealth and forestry products together with excellent human resources. The industrial city of Ranchi is its capital. The other major cities and indurstrial centres are Jamshedpur, Bokaro, Giridih, and Dhanbad.
Jharkhand's gross state domestic product for 2004 is estimated at $14 billion at current prices. Born out of partition from old Bihar state in 2000, Jharkhand produces about 40% of the output of the old Bihar state. Jharkhand is known as a rich state of poor people but it is now also being recognized as a rich state of talented people. It has a concentration of some of the country's highly industrialized cities such as Jamshedpur, Bokaro and Dhanbad. On the other hand, it has several towns and innumerable villages with sub-standard civic amenities. Urbanization ratio is only 22.25% and the per capita annual income is only US$ 90. Jharkhand also has immense mineral resources: minerals ranging from (ranking in the country within bracket) from iron ore (1st), coal (3rd), copper ore (1st), mica (1st), bauxite (3rd), Manganese, limestone, china clay, fire clay, graphite (8th), kainite (1st), chromite (2nd), asbestos (1st), thorium (3rd), yemenite (2nd), sillimanite, uranium (Jaduguda mines, Narwa Pahar) (1st) and even gold (Rakha mines) (6th) and silver and several other minerals. Large deposits of coal and iron ore support concentration of industry, in centers like Jamshedpur, Bokaro and Ranchi.
Hindi newspapers like the Ranchi Express and the Prabhat Khabar are main newspapaers, published from the state capital, Ranchi and are available in almost all parts of the state. All important Indian newspapers, in Hindi, English and Bengali are also available in bigger cities by the afternoon and after a day's delay in smaller towns. Most of the national magazines in Hindi, English and Bengali are regularly available in bigger cities and at other places supply may be arranged through newspaper vendors. All India Radio is the only radio station in Jharkhand and covers the entire state. Doordarshan, the national television broadcaster, is also available in almost all parts of the state. Bigger cities of Jaharkhand is served by all television channels available in India and channels are received through cable. In some interior regions, channels are received via satellite dishes. Landline telephone connectivity is provided by Bharat Sanchar Nigam Limited (BSNL), Tata Teleservices (TATA INDICOM) and Reliance Infocomm and covers almost all parts of the state. Cellular service, covering all major centres of the state, is provided by BSNL, Reliance Telekom and Airtel (GSM Service) and also by Tata Indicom and Reliance Infocomm (CDMA Service). Internet connectivity is available in most of the district headquarters, but broadband connectivity is not widely available.

Tourism
JONHA FALLS - Jonha is about 40 km. away from Ranchi. The road leading to Jonha is a bit narrow but not so rough and rugged as well as arduous as that of Hundru. There is also a hospice Tourists rest house which accommodates Lord Gautam Budha's temple. This falls is named after Gautam as Gautamdhara too, it is approachable by road. The tourists can go upto Gautamdhara station by train also. HIRNI FALLS - About 70 km. From Ranchi on way to Chakradharpur is located Hirni Falls. Having situated amidst dense forest Hirni has been favoured by nature for scenic beauties. The tourists are carried away by emotions and flight of imagination while observing Hirni. RANCHI HILL - Ranchi, being situated at an altitude of 21,40 feet from sea level, is a popular health and holiday resort and a place of sacred pilgrimate.Some comely sights in the town include Ranchi Hill,Tagore Hill,Ranchi Lake etc.A panoramic view of the town can be behond from the hill top.The Shiva Temple situated on the top of the hill,is an added attraction for the devotees for whom it assumes the places of reverence during Shravanmas same as that of Baijnath Dham (Deoghar). GONDA HILL & ROCK GARDEN - About 4 km. from G.P.O., Ranchi on Kanke Road,just in fornt of the CMPDIL Hq. Is situated the Gonda Hill with a water reservoir at its top. At the foot of the hill is a big lake known as Kanke Dam and a lucrative place for tourists. TAGORE HILL - About 3 km. from the Ranchi G.P.O. the Tagore Hill is about 300 ft. high. As the hill is associated with a history pertaining to Tagore family, it is known as Tagore Hill. A number of books are supposed to have been written by Rabindra Nath Tagore on the top of the hill. At the foot of the hill are situated the Ramakrishna Mission Ashram and its office and center of Divyayan and agrarian vocational institute. JAGANNATHPUR TEMPLE & HILL - About 10 km. From Ranchi G.P.O. is another sight seeing place where the tourists can rejoice and worship. The old temple of lord Jagannath ,built in 1691 in the architectural style of Puri Temple stands like a fort on the top of the in the hill. Its car/chariot festival held light part on Ashadhmas draws a big crowd comprising of tribals and non-tribals. HEC township nearby is an added attraction. ANGRABADI - Angrabadi is actually, a temple complex which accommodates the temples of Lords Ganpati, Ram-Sita and Hanuman and Shiva. The Shankracharya Swami Swarupanand Saraswati, having been captivated by serene, placid and celestial beauty of Angrabadi rechristened it as Amreshwar Dham.SUN TEMPLE - About 39 km. From Ranchi on Tata Road near Bundu stands on the desolate bush green the elegant Sun temple fashioned in the form of huge chariot with richly decorated 18 wheels and seven life like horses ready to take of. Built by Sanskrit Vihar headed by Shri Ram Maroo, the managing director of Ranchi Express, the sun temple deserves the title "a poem in stone". The surroundings of the temple, studded with a pond serving as a sacred place for Chhathavratis are actually a natures bounty to the peple of Chotanagpur. A beautiful dharmashala , meant for the pilgrims. The all weather motorable road upto the temple premises is likely to attract tourists who will be captivated to behold the newly built sun temple in the placid and serene surrounding leading to its celestial bueaties.