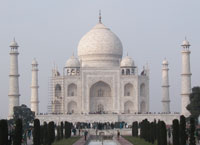 Manipur is a state in northeastern India making its capital in the city of Imphal. Manipur is bounded by the Indian states of Nagaland in the north, Mizoram in the south and Assam in the west; it also borders the country of Myanmar to the east. The Meiteis from the valley region is one of the ethnic group in Manipur. Their language is Meitei (also known Meiteilon or Manipuri) which is also the lingua franca in the state. It was recognized as a national Indian language in 1992. Manipur is considered a sensitive border state. Foreigners entering Manipur (including foreign citizens born in Manipur) must possess a Restricted Area Permit which can be obtained from the Foreignersí Regional Registration Office in the "metros" (Delhi, Mumbai, Kolkata) or certain other state government offices. Permits are valid for only 10 days, and visitors must travel only on tours arranged by authorised travel agents, in groups of four. Furthermore, they may come to Imphal only by air and will not be permitted to travel outside the capital.
The people are simple and happy. They speak sweet words. The place is the land of diverse origins, but of a unique culture. Here different ethnic groups of people are living together for centuries with peace and harmony. Majority people of the State are the Meiteis. Other people of present Manipur include Bishnupriya Manipuris, Naga, Meitei Pangal and other colourful communities which have lived together in complete harmony for centuries. These are the people whose folklore, myths & legends, dances, indigenous games and martial arts, exotic handlooms & handicrafts are infested with the mystique of nature. The Hill tribes of Manipur although divided into a number of clans and sections, maybe grouped under the two divisions -Naga's and Kuki's.Manipur is a mosaic of traditions and cultural patterns, best represented by its dance forms. The Lai-Haraoba, a traditional stylized dance is ritual dance for appeasing gods and goddesses.
The Lai-Haraoba festival is generally celebrated between April and May, after the harvest season, The Ras songs and dances express the Leelas (sports) of Lord Krishna as a child with the Gopis milkmaids) of Brindavan, and depict their yearning for communion with the Lord. The tribal dances of Manipur are the expression of love, creativity and aestheticism of the tribal people of the State. Manipuris were earlier recognized as skilful warriors and still practice the arts of wrestling, sword fighting and martial arts. Sogol Kangiei (Mainipuri Polo) is the principal sport of the State, for polo is believed to have originated here. Mukna Kangiei (Wrestling Hockey) is also a very popular game in Manipur. The game is part of a ceremonial function and enjoyed due patronage in the olden days. Another popular game known as Yubi-Lakpi (Manipur Rugby) is played, using a greased coconut.

It is grown at the peak of the Shiroy Kashang Mountain at a height of 8400 feet above sea level situated in Ikhrul district of Manipur. The Shiroy Lily belongs to Lilium family, but unique in character. By using a microscopic lens, seven colours which claimed its superiority to other lilies in the world can be seen light pink in color. The height of the plant varies from 2 ft. to 31/2ft. depending on the soils fertility Shiroy Lily is not grown anywhere in the world accept Shiroy Kanhong of Manipur. It is said that Priincess Chitrangoda of Manipur had own the heart of Arjuna in her first meeting by offering a Shiroy Lily. Arjuna was so impressed with the beauty and fragrance of the flower that he at once lost himself on her. This Shiroy Lily starts blooming during the months of May-June every year on the laden mineral mountain of the Shiroy. It was discovered first by a British naturalists Mr. Kingdom ward, who gave it the Botanical name Lilium Mackleanae and won him the show in London in the 1948