India States - Chattisgarh

A brand new addition to the Indian family of states, Chattisgarh is the culmination of the hopes and desires of an indigenous people marginalized, neglected and overlooked only because they dwell in the back of beyond, hidden away deep in the heartland of Central India. Chattisgarh was long part of the state of Madhya Pradesh despite intrinsic differences in culture, language and ethnicity. The need to preserve their distinctive culture, to be masters of their political destiny, to control the management of the regionís abundant natural resources and to get a rightful share of the development pie were the imperatives that led to the demand for autonomy. Undulating hills, mighty rivers, acres of dark forests, uncomplicated tribes people and relatively unexplored territory add up to make Chattisgarh a travel destination waiting to be discovered.
Chattisgarh - The Forest Land is a young state carved out of Madhya Pradesh on 1 November, 2000. Worldwide known for its abundant wealth of mineral and natural resources, Chattisgarh India is renowned for a place Bela-Dila rich in iron ores. Covered extensively by dense forests, Chattisgarh is inhabited by Marias, Murias and other tribes. The state has a high tourist potential in adventure tourism, water sports and pilgrimage due to the forests, waterfalls, temples and wide range of flora and fauna found in Chattisgarh. The well-known landmarks in Chattisgarh India are the gold mines and aluminium plant in Korba; Bhilai Steel Plant; Bela Dila iron ore reserves; the capital city Raipur, Bilaspur, Bastar, Chitrakut and other places.
Culture
Tribals of Chattisgarh love to adorn themselves with plenty of ornaments comprising of items like cowries,beads,shells,bones,feathers,mixed metals,copper and bronze. The local tribes use bamboo as utensils,water pipes,agricultural implements,fishing traps,hunting tools,bows and arrows,mats,baskets and decorative items. Chattisgarh is a storehouse of literature,arts and crafts. Religion,mythology,social and political events,nature and folklore are favourite motifs. Traditional crafts include painting,woodcarving,bell metal craft,bamboo ware and tribal jewellery. Traditional music and dance play an important part in the passing down from generation to generation of traditions and customs - apart from being a source of entertainment and amusement. Local dances and dramas such as Pandavani,Panthi Dance,Nacha,Gond and Muria reflect the tribal culture and heritage. Amongst the finest performers of Pandavani meaning the oral narrative style of story telling,is the folk singer/entertainer Teejan Bai.

History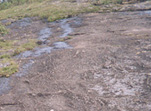 In ancient times the region of Chattisgarh was known as Dakshin-Kausal. Between the 6th and 12th centuries the dynasties of Sarabhpurias,Panduvanshi,Somvanshi,Kalchuri,and Nagvanshi ruled this region. After the Britishers arrived in 1854 Raipur gained prominence as compared to the then capital Ratnapur. In 1904 Sambalpur was transferred to Orissa and estates of Sarguja were transferred from Bengal to Chhattisgarh. After the India's independence Chattisgarh became a part of state Madhya Pradesh. But on 1st November 2000,Chattisgarh came into being,as the 26th State of the Union.