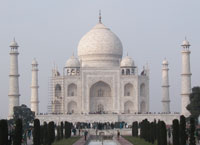 Meghalaya is a small state in north-eastern India. It is a hilly strip in the eastern part of the country about 300 km long (East-West) and 100 km wide, with a total area of about 22,429 sq km. The population numbered 2,175,000 in 2000. The state is bounded on the north by Assam and by Bangladesh on the south. The capital is Shillong, which has a population of 260,000. Meghalaya was originally part of Assam.
Shillong Peak: An ideal picnic spot, 1965 metres above sea level and 10 kms from the city, offers a panoramic view of these country side, and is also the highest point in the State. Obeisance is paid to U Shulong at the sanctum at the peak's summit every springtime, by the religious priest of Mylliem State. In the evening the city lights below appear like a star-studded abyss.

Sohpetbneng Peak: 1,343 meter, 20 Kms from Shillong, regarded as sacred by the Hynniewtrep people, is set amidst a beautiful scenic view against the backdrop of a sacred forest. This 'Navel of Heaven' as per Khasi mythology is a heavenly peak, which offers to fill the spiritual void and emptiness, to those who seek and desire solace and peace of mind. Ward's Lake: Ward's Lake is century old picturesque lake also known as Polok Lake. Located in the heart of the city, popular for short garden walks and boating. The local people however prefer to call it Nan Polok (Polok's Lake) after an executive engineer named Mr. Pollock. It has a most pleasant, winding walk-a-way all around its parameter set in cobbled sand stones, in the midst of picturesque, rolling flower beds and fairyland lighting. The lake has a striking arched bridge over it.

Umiam Water Sports Complex: The Water Sports Complex has been developed upon the mighty reservoir of the Umiam Hydro Electric Project, at Umiam, 16 kilometres before reaching Shillong. The campus consists of a beautiful Orchid Lake Resort, the Nehru Park. Besides it offers a wide choice of exciting water sports activities with row-boats, paddle-boats, cruise-boats, sailing-boats, water-scooters, speed-boats and a floating restaurant with ferry services.

Botanical Garden: A secluded but captivating spot with a plethora of indigenous and exotic plants and is located just below the Ward's Lake. It also houses a mini-aviary with rare and colourful species of birds. The secluded setting of the Botanical Garden with its well-laid paved walks makes it a favourite resort for city dwellers as well as tourists who desire to exercise their limbs.

Lady Hydari Park: Lady Hydari Park, stretching over a km is replete with roses and blossoms of exquisite hues and colours, is a feast to eyes. Owes its existence to Lady Hydari, the wife of an erstwhile Governor of Assam. It has an excellent mini zoo cum deer park.


Golf Course: Shillong Golf Course is considered to be the "Glen-eagle of the East" at the United States Golf Association Museum. The site where the Golf Course is located provides a scenic view. It was set in an undulating valley covered with thick groves of pine and rhododendron trees at an altitude of 5200 ft in 1898 as a 9 (nine) hole course and later converted into a 18 (eighteen) hole course in 1924 by Captain Jackson and C. K. Rhodes. Shillong Cathedral: As if to justify the desire of the British founding fathers of the city of Shillong to make it a little England, churches and cathedrals, large and small, have come up everywhere in the city. Some of these churches and cathedrals are so spacious and large that they can be easily accommodate a few thousand worshippers, at a time. Among such large churches of Shillong, mention can be made of the Shillong Cathedral, the Mawkhar Presbyterian Church, the jaiaw Presbyterian Church, the Laitumkhrah Presbyterian Church and the All Saints' Cathedral, as prominant landmarks of the City. Churches of Shillong - a measure of the religiosity of the Shillongites Elephant Falls: 12 kms on the outskirts of the city the mountain stream descends through two successive falls set in dells of fern-covered rocks. At a short distance beyond the falls, there are two smaller falls which are none the less beautiful and captivating. These are the Wei Iaplam Falls and the Wir Phang Falls. A well paved footpath and a small wooden bridge facilitate access to these falls. Kyllang Rock: Located about eleven kilometres off Mairang, is a steep dome of red granite rising to an elevation of about five thousand and four hundred feet above sea level. According to geologists, the hard red granite rock is several million years old. The rock is accessible from its northern and eastern flanks, but inaccessible from its southern flank where its slope exceeds 800 over an incline of about six hundred feet. The southern side of Kyllang Rock is encumbered with enormous detached blocks of rock, while its northern side is clothed with dense forests, containing age-old red Rhododendron trees and oaks besides bushy, white Rhododendron trees which are not found elsewhere.

Cherrapunjee (Sohra): Better known as Sohra, Cherrapunjee is one of the most visited tourist spots of North Eastern India. Situated 56 Kms from Shillong and 1300 metres above sea level, known all over the world as the rainiest place on the planet. A pleasant drive to see roaring water falls leaping into deep gorges, including the famous Nohsngithiang falls is certainly an ever memorable visual treat. The lovely town is also famous for its limestone caves, orange, honey, a headquarter of the Syiem of Sohra and a Centre of the Khasi Culture and literature. The oldest Theological College in this region is located here, established by the Welsh Presbyterian Missionaries in 1888, known as Cherrapunjee Theological College. Extensive limestone caves abound, with a large number of stalagmites and stalactites inside, the full length and breadth of the caves has not been adequately explored. In addition, the natural beauty is complemented by springs and sacred forests. 12 Kms from Cherrapunjee is situated a beautiful Park 'Thangkharang'. Besides housing a bird sanctuary, the spot commands an imposing almost 180 degree view of the plains of Bangladesh. The ideal time to visit is during the monsoons when the gorges become resplendent with several seasonal waterfalls.